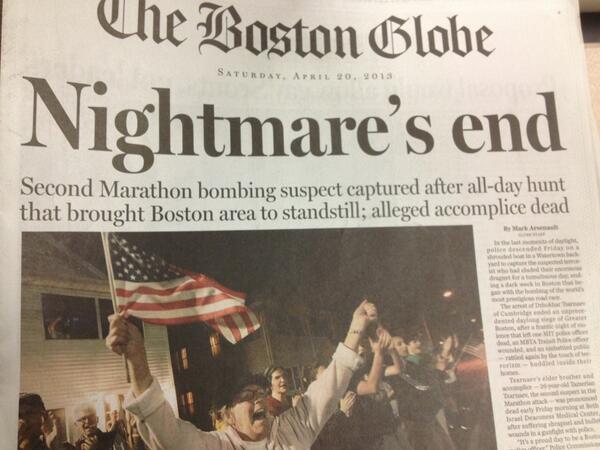 It's been a weird week to be a Boston ex-pat. As I'm sure many of you did, I spent most of yesterday absolutely glued to the news updates, and that was after a week of tension after the bombings on Marathon Monday. Needless to say, it was such a relief that both suspects were caught relatively quickly (though it sure didn't feel quick as we were experiencing it!).
My friend "kschu" wrote a
really nice post
about her emotions and experiences during the past week, having also left Boston after moving there for her college years. As we all read the news updates yesterday, I think many people just kept thinking "this is practically happening in my backyard." I know it felt that way to me.
While I was unequivocally glad not to be in Boston as the events unfolded yesterday, I still really wanted to be connected with Boston friends. Turned out many people felt the same way. My google chat list was greener than usual, probably because everyone was stuck at home anyway, and throughout the day many different friends who were also Boston "ex-pats" were chatting - we didn't have much to say, but we needed to check in with each other.
The windows of MIT's Green Building were lit up as a memorial to officer Sean Collier, only 26 years old when he was shot last night.
Rather than focus on the bombers, I think there are many other names to remember from these past few days.
Obviously the shooting of the MIT police officer strikes very close to home, and for now it's still difficult to understand the reasons that led to his shooting. As the rest of Boston celebrates and returns to normalcy, his family and friends are experiencing something completely different. MIT has posted an
obituary
to officer Sean Collier, along with a place where people can share memories and express condolences. The memories and photos
shared by the MIT Outdoors Club
(of which he was a member) remind me how he was so young and so much a part of our community.
Similarly, the families of the two American victims (and of course the Chinese victim as well) who were killed in the bombings may be glad to hear the suspects have been caught, but it
doesn't alleviate the sadness
and tragedy that has come to their families. For the families of Krystle Cambell and Martin Richard, there is still a great deal of sadness ahead of them. The same goes for those who had family members maimed and seriously injured in the blast.
During the chaos of the past couple days, I was continually impressed by the amazing and professional response of both the medical and public safety workers of Boston.
This piece
tells the incredible story of doctors, nurses and emergency responders who stepped up and self-organized in the aftermath of the Marathon bombings. And I think it speaks greatly about the police work yesterday that not a single bystander was hurt in the manhunt, despite hundreds of rounds fired and bombs detonated.
Finally, I wanted to mention the amazing work done by local reporters from the Boston Globe and local news stations in Boston. This was the first time I ever
followed a developing news story on Twitter
(and Reddit) instead of the mainstream news sites. Especially during the crazy events that happened over night, Twitter and Reddit were leaps and bounds ahead of CNN, NYTimes, etc. in terms of both speed and accuracy.
A lot of people have been saying "wow, this just proves that Twitter is a great news source!" but it's worth remembering that Twitter doesn't actually do the reporting; that happened thanks to many dedicated reporters on the scene in Watertown, who published their first-hand accounts to Twitter from smart phones. To me, it was a good reminder that even in an age where newspapers are dying and journalism is struggling, I was glad that the local reporters who really knew the area were there.
I think I speak for many people when I say that I hope next week is a supremely boring and normal week.